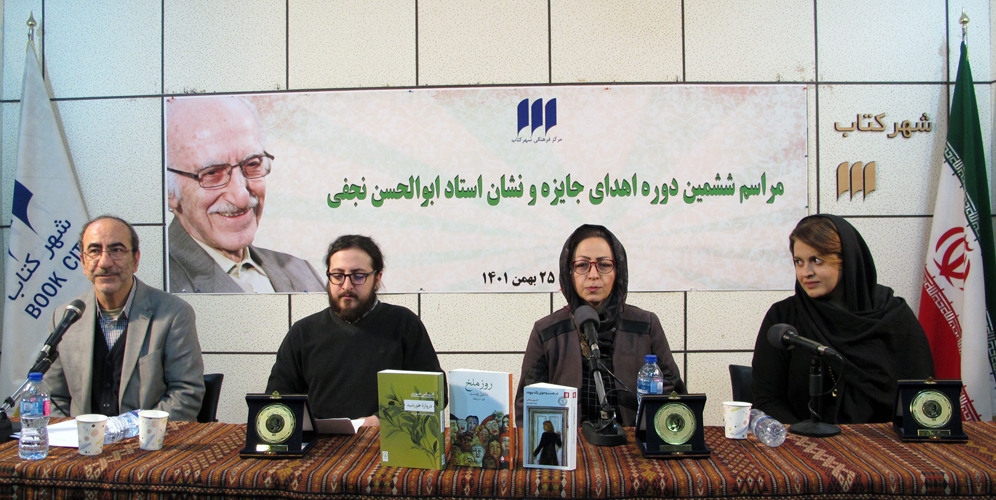 The winners of Abolhasn Najafi Award announced
The winners of the 6th Abolhasan Najafi Award for the best translated book were announced at the closing ceremony held in BookCity. Narges Ghandilzadeh was selected as the best translator for her work, while Farid Dabir Moghadam and Haniyeh Pedram were chosen for their translations of "The Locust Day" and "In Search of a Link," respectively.
Ali Asghar Mohammadkhani, the award's secretary, spoke about the challenges of translation and emphasized the importance of maintaining the author's unique style and language. He also stressed the impact of translations on Iranian thought and culture and raised concerns about the infringement of copyright as a serious issue in the translation market.
This year's judging process was particularly difficult, with 83 books submitted to the secretariat, primarily in English, French, Italian, Russian, German, Arabic, Turkish, and Kurdish. The jury, composed of two or three readers per book, compared the translations with the original texts to ensure accuracy and quality.
Mohammadkhani recognized the efforts of publishers who prioritize translation quality and spoke to the overall importance of careful editing and attention to appearance in creating valuable translations. Despite the challenges, the Abolhasan Najafi Award continues to recognize excellence in translation and promote cultural exchange through literature.
This award is presented annually to honor the best translation of a novel and short story collection published in the previous year. The award is named after Abolhasan Najafi to acknowledge his contributions to the culture, literature, and translation field in the region. The judges for this year's award were Zia Movhed, Mahasti Bahreini, Abdullah Kowsari, Hossein Masoumi Hamedani, Musa Aswar, Omid Tabibzadeh, Abtin Golkar, and also Ali Asghar Mohammadkhani who served as the secretary.